We are currently developing the site content so not all the information is currently avaiable. We will endeavour to complete this as soon as possible. Any old or new photos of Caerwent or surrounding areas would be gratefully displayed on the site.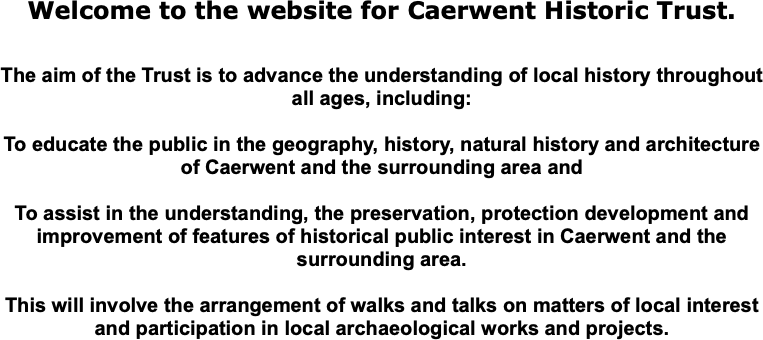 Caerwent Historic Trust Open Day
We are fast approaching the Trust Open Day on Saturday 4th May from 10.00am – 1.00pm. at Caerwent Church. We hope you will be able to come along and perhaps find out more about the history of the community you live in
We are very lucky to have two speakers at the event
At 11am, Dr Mark Lewis, Senior Curator: Roman Archaeology at the National Roman Legion Museum, Caerleon will give a talk on the village layout and some interesting landmarks you might not have been aware of; and
At 12 noon, Mr Peter Bonvoison will speak on "House histories: Court House, Llanvair Discoed"
We will be answering enquiries on local history, displaying the layout of the church graveyard plots and assisting with family history. We will also be displaying local maps of the area including tithe maps showing the ownership of local land back to 1841.
Refreshment will be available in the church
We are also looking for residents who can help us create a living archive of their memories of the area. Modern technologies allow us to not only create written records of the past but to now have audio and video records spoken by the individuals themselves. This is an exciting project the Trust has started and we would welcome as many local people with a story to tell to either come along on the day or to contact us so we can capture these memories.
Any stories or anecdotes would be of interest so please get in touch
Please contact either Rob Jones (Chairman) or Kevin Evans (Secretary) at the following email address.
[email protected] [email protected]
Thank You
To keep members and residents up to date with projects and activies run by the Trust we are going to introduce a Trust e-letter which is a regular newsletter in the form of an email.
Those interested in receiving this regular newsletter should send their name, address and email details to [email protected] to sign up for this newsletter.
You can unsubscribe at anytime by emailing your request to [email protected]
Membership of the Trust cost only £5 per person per year with a wealth of archive material to veiw as well as access to some very knowledgable members who have years of research and involvement with Caerwents local history.
Caerwent Historic Trust
World War 1 Commemoration Page
As part of the World War 1 Rememberance process the Historic Trust have decided to set up a timeline of the fallen for the period 1914-1918.
The timeline will post on or near to the date of a particular loss with brief details of the fallen.
The information will build up over the next 3 years to show all those from the Caerwent area who gallantly gave the ultimate sacrifice.
Please vist our Commemoration page
This information was originally colated by the late John Nettleship and Gareth Jones.
More recently it was used in the Commemoration Service at Caerwent Church on 9th November 2014.
The following 2 pictures are a graphical representation of the roman remains discovered so far and a current artist impression of Caerwent.by kind permission of Cadw, Welsh Assembly Government (Crown Copyright) and the artist, Peter Visscher.
For a larger versions please click on the pictures
Caerwent Historic Trust ©2000-2017. All rights reserved
Designed by breezegraphic.com